The 6mm Keyway Coupling CB18032 allows you to mount robot 100 mm omni wheels and mechanisms to 6mm motor shafts. It was designed to connect a 14049 100mm Omni wheel, 14041 Omni wheels and a 6mm motor shafts motors.
The 6mm universal aluminum mounting hubs include one stainless steel hex socket set screw for securing a motor to the hub.
This 6mm coupling with keyway is a new and special spacer. It is produced to simplify the wheel's structure. The spacer hub is the coalition of spacer and hub, so you do not need to buy another hub to connect the 6mm motor and the wheel.
The aluminum spacer hub with key and screw hole is very convenient whether you connect your motor and wheel directly or flexible the shaft by screw. And the aluminum material make the spacer hub more powerful and strong.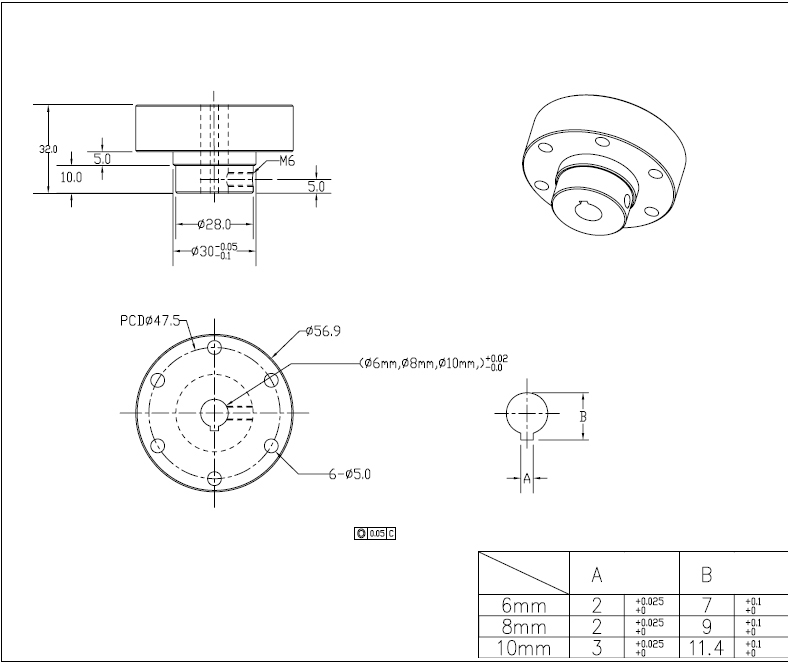 Key Features:
Material: Aluminum-alloy
Outside diameter: 57mm
Inside diameter: 6mm
Net weight: 141g
Sold in individually
Packing List:
1 x 6mm Keyway Coupling