A set of  CasterBot 6 Inch 152mm Mecanum Wheels with Bearing Rollers for Robocup Robocon
This CasterBot (6 inches) 152mm Mecanum wheels including 4 pieces are 2 right wheels and 2 left wheels. Each wheel is connected to its own, independent motor and driven independently. Every one of the four wheels includes a series of rollers attached to its circumference, these rollers having an axis of rotation at 45° to the plane parallel to the axis of rotation of the wheel.
Mecanum wheel using a standard chassis shape and powering each wheel with a different motor, which can be capable of moving in any direction, no need to change the directions the wheels spin. This design enables the wheel to propel your robot forward, backward, and directly sideways.
CasterBot provides all kinds of 6inch Mecanum wheels for choice. The Mecanum wheels load capacity up to 15 kg, at the same time, we accept customization.
CasterBot 6 Inch 152mm Mecanum Wheels Specifications:
Diameter: 152.4mm(6 inch)
Width: 55.52mm
Number of Rollers per wheel: 15 pcs
Number of Plates per wheel: 2pcs
Body material: Aluminium alloy
Roller material: Nylon+TPR
Spacer material: Nylon
Length of roller: 38.1mm
Net weight per wheel: 600g
Load capacity per wheel: 15Kg/Set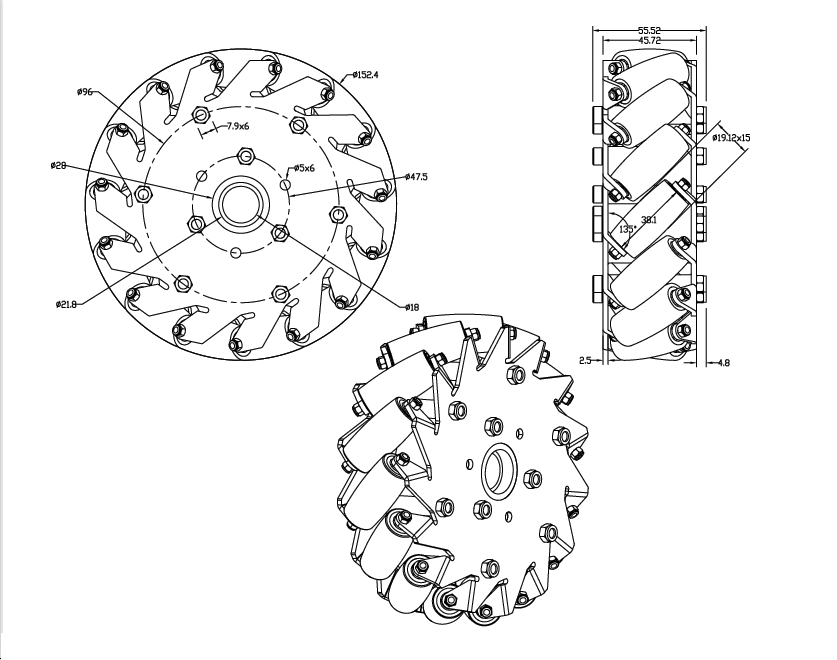 6 Inch 152mm Mecanum Wheels Packing list:
2 x CasterBot Left 6 Inch 152mm Mecanum Wheels
2 x CasterBot Right 6 Inch 152mm Mecanum Wheels