10 inch Mecanum Wheels 254mm Heavy Duty Industrial Mecanum Wheels with 8 PU roller Max Load 1300KG
Casterbot 10 inch Mecanum Wheel is industry heavyduty Mecanum Wheels. Each 10 inch Mecanum Wheel High-strength wheel hub and great-quality material ensure the series an excellent performance. This industry mecanum wheel also adapt to various indoor and outdoor occasions.
254mm  Mecanum Wheel can be used in industry . install on the heavy duty omni moving platform to make the platform rotate to omni directions.
And it mainly used in industry , workshop, AGV and so on . It can even used on stage show equipment
254mm Heavyduty Industrial Mecanum Wheel Specifications:
Heavyduty Industrial Mecanum Wheel Size: 10 inch
Mecanum Wheel Limit Load: 1300Kg/Set
Suggested Load: 1100Kg/Set
Outside diameter: 254mm
Width:128mm
Quantity of rollers: 8Pcs
Self weight: 15KG
Side part material: High strength Aluminum
Wheel core material: High strength 45#steel
Covering material: Polyurethane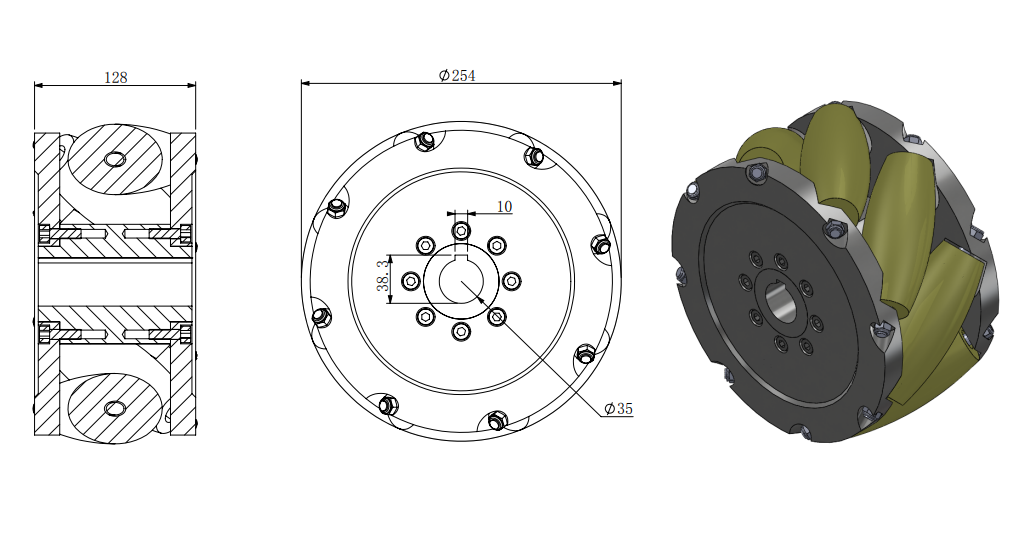 254mm Heavyduty Industrial Mecanum Wheel Packing Include:
2 x  Heavyduty Industrial Mecanum Wheels 10inch(Right)
2 x  Heavyduty Industrial Mecanum Wheels 10inch(Left)