1.5 inch 38mm Omni Wheels 14199 Plastic Omni-directional Wheel for Robot Car Wheel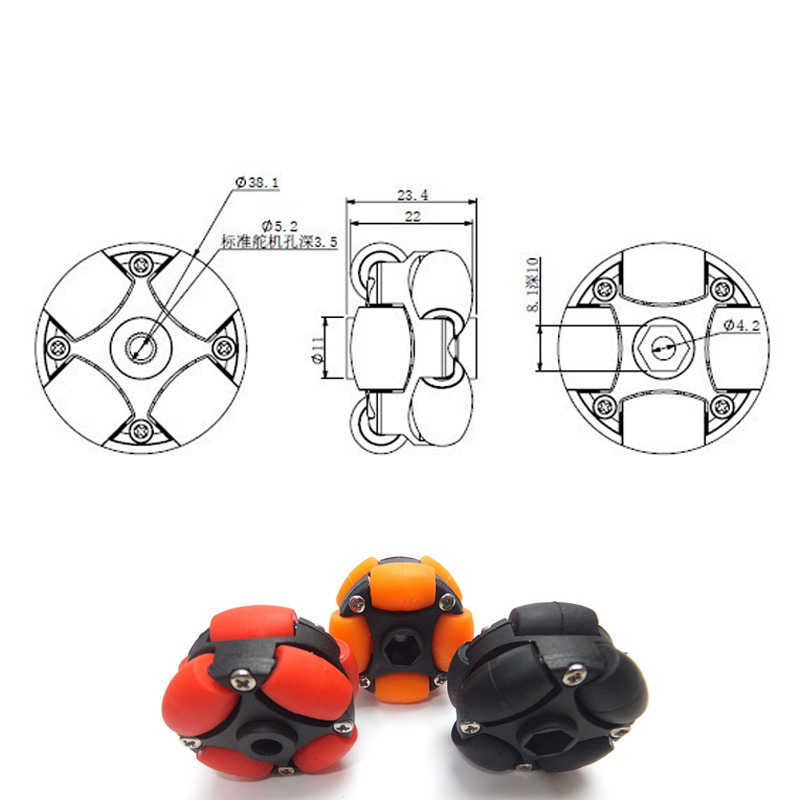 The 1.5 inch(38mm) double Plastic omni wheel is the smallest omni-directional wheel in all of our aluminum omni wheels.It is unique as they are able to roll freely in two directions. And this 38mm omni wheel has 8 rollers which is PU coated. Its rollers are more durable, robust and flexible to provide the wheel 360 degree movement easily. This 38mm omni wheel apply to the small robot cars, robot platforms, small toys and so on.
Omni-directional wheel Specification:
Modle: 14199
Diameter:1.5inch(38mm)
Width:23.4mm
Body Material:plastic
Net Weight:20g
Roller materials:plastic
roller quatity:8 pcs
Load Capacity:2kg
1.5 inch Omni Wheels Features:
Unrivalled 360 degree manoeuvrability & rotation including lateral & diagonal movement.
Unique fixed orientation.
Simple & stable mounting method.
Robust &durable construction.
This kind of omni wheel suitable for conveyor.
1.5 inch Omni Wheels Packing list:
4 x 1.5 inch Omni Wheels(Color random)
Matching shafts have 3mm and 4mm copper coupling, accessories need to purchase another. Link is as follows: